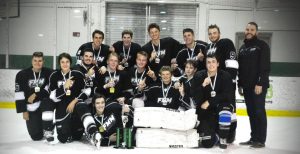 The Flower Mound/Marcus High School varsity hockey team won a championship game over the weekend in a thrilling shoot-out.
The team from Flower Mound and Marcus high schools beat Jesuit Dallas 2-1 on Sunday evening in the AT&T Metroplex League Summer League championship game.
Jesuit had been in first place throughout the summer season, but the championship game was tight, said Tera Martinez, the Flower Mound/Marcus Hockey secretary.
"We scored first, which was a big lift for the boys because they (Jesuit) are a great team with a great goalie," Martinez said.
Brian Galbraith scored that goal in the first period for FMM, assisted by John Phillips. Jesuit tied it up in the second period, but both goalies hung on until the end of regulation. FMM Goalie Ryan Hooks had 16 saves.
After regulation ended 1-1, each team had three one-on-one shots on goal in the shoot-out. Jesuit scored one of three, and FMM's Joe Demers and Evan Knight each scored, giving the local team the victory.
"This was so much fun," said Martinez, whose son Jason plays on the team. "It's so fun to see your kids succeed at something that they put their heart and soul into."
Flower Mound High School and Marcus High School were each having trouble fielding full and competitive teams about three years ago, Martinez said, so they decided to merge into one, like other teams in Dallas-Fort Worth have also done.
The FMM team also played well during its last regular season, making it to the championship game before losing to Mansfield. The summer league, though, poses different challenges.
Not all teams play in the shorter summer league, which prompts different divisions and lets FMM play against different teams. Teams often have short benches while players are on summer vacations.
"They worked so hard," Martinez said. "They learned about losing after a really defeating loss in the regular season championship, but they got the sweet joy of winning Sunday."
A lot of the Flower Mound/Marcus hockey team players are upperclassmen, Martinez said, and the team is hosting tryouts for its 2017-18 school year on Sunday at 4 p.m. For more information and to register, click here.