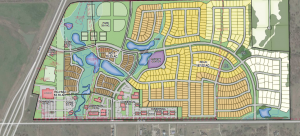 A large controversial proposed development in Argyle will appear before the town's Planning & Zoning Commission on Tuesday night.
The zoning application, which is posted on the town website, shows Lochlan of Argyle to be a 333-acre proposed development on the northeast corner of FM 407 and I-35W. It extends north to Sam Davis Road and east to just past Birch Court.
The land is currently zoned on the southwest side for commercial and the rest agricultural. Under the town's comprehensive plan for future land use, most of the property is intended to be an 80/20 mix of residential and commercial space, with rural space in the northeast corner and other residential zoning in the southeast corner. It's evident from the current plan that Terra Manna used that as a blueprint for Lochlan of Argyle.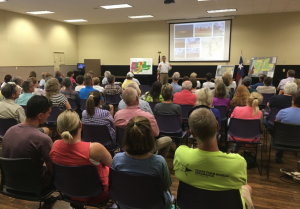 Much of the development is dedicated to nearly 700 residential lots — some small patio homes, others much larger — with several ponds and parks throughout, as well as a large amenity center. There are also 20 proposed commercial buildings along the south and west sides of the map. They vary in size from 1,800-square-feet to 57,000-square-feet.
Terra Manna, which also has the Waterbrook mixed-use development near the Hwy 377 and FM 407 intersection, agreed to host a Program for Argyle Community Engagement meeting at Argyle Town Hall on July 19 to give a presentation about the plan for the development, answer residents' questions and listen to their comments.
Most of the more than 90 attendees opposed the plan, or were at least concerned about potential issues caused by the proposed development, particularly traffic on FM 407.
The Lochlan plan is on the agenda for the town's next monthly Planning & Zoning Commission meeting at 6:30 p.m. on Tuesday. There will be a public hearing for the Lochlan proposal, giving residents the opportunity to voice their support for or opposition to the plan. The P&Z Commission members will vote to recommend that Town Council approve or deny the proposal, which is expected to go to Town Council during the Aug. 22 meeting.