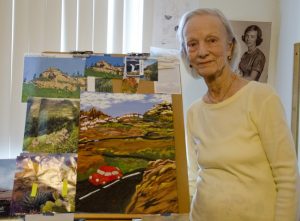 An Argyle bank is preparing to display a unique art show.
The Argyle PointBank is hosting an art show next week that will feature works by five residents of Good Samaritan Society – Lake Forest Village, an assisted living center in south Denton.
It'll be the second summer Lake Forest Village will be having the art show, and they're "hoping to make it an annual thing," said Dorothea Dickey, Lake Forest Village's marketing coordinator.
"Our residents love sharing who we are with the community," Dickey said. "It's an important way to show how being retired doesn't mean you've stopped doing what you love, you're just doing it differently."
Paintings, ceramics, needlework and colored pencil drawings by the Lake Forest Village residents will be on display at PointBank, 302 Hwy 377 North, from Monday through Friday, July 24-28.
The PointBank in Corinth will host the same art show two weeks later, Dickey said.