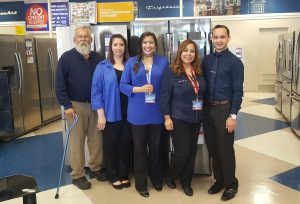 The Sears Home Appliance Showroom in Flower Mound is closing this weekend, said Ben Churchill, the store manager.
"I'm not sure what we did wrong," Churchill said.
Sears has announced dozens of store closures across the country in the last two months, and the Flower Mound Home Appliance Showroom, 5810 Long Prairie Road, was caught in it.
The news came on June 27, just one month after it was named a 2016 "Sears Home Appliance Showroom Premier Store."
The Home Appliance Showroom is kind of a "spinoff from Sears corporate" that started over five years ago, said Churchill, who is extremely disappointed with the decision to close it and eliminate the five employees' jobs.
Churchill said he moved from Nebraska to Austin to work at a Sears outlet store. When Sears closed that store, they moved him to the Flower Mound one in June of last year, and he spent a lot of time traveling back and forth and spent some of his own money on the store.
"It was a pleasure working with my coworkers," Churchill said. "We all thoroughly enjoyed our job and our dedicated customers."
The store is closing on Saturday. Most of the inventory has been sold, but "we still have a decent amount" of merchandise at 60-65 percent off.