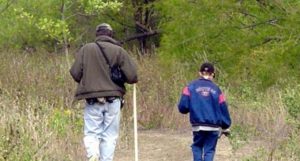 The Lewisville Lake Environmental Learning Area (LLELA) is planning three hikes in two separate locations in celebration of National Trails Day on Saturday, June 3.
Now in its 25th consecutive year, National Trails Day provides fun opportunities for the public to have a summer adventure of their own on nearby trails.
The LLELA planned events are:
Nature Hike at LLELA
10 a.m.-Noon
Join LLELA's trail guides as they lead a hike on one of the trails, searching for animal tracks, admiring the wildflowers, or discovering other treasures of the forest, wetlands, or prairie. This event is free and no registration is required, but attendees will need to pay $5/vehicle gate admission (cash or check only).
Valley Vista Park Sneak Peek
2-3 p.m.
(Meet in Senior Activity Center parking lot, 1950 S. Valley Parkway)
Get a sneak peek at Lewisville's future nature park, led by one of LLELA's nature guides. With no real trails in the park yet, this will be a rustic walk through a piece of Cross Timbers Forest guaranteed to make you feel like an early explorer. This event is free, and no registration is required.
Night Hike at LLELA
8:30-10:30 p.m.
Follow one of LLELA's trail guides on a twilight stroll down one of LLELA's nature trails. We may hear owls calling or armadillos rustling in the underbrush, and we may see fireflies or bats flitting about. Night brings an out-of-the-ordinary hiking experience. This event is for people ages 5 and up. This event will cost $10 per person, and attendees must register by 11 a.m., Friday, June 2, at bit.ly/CoLRegistration, activity code 800000.