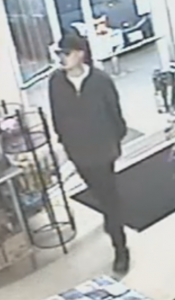 Argyle police are looking for a man who tried to rob a convenience store on Tuesday morning.
Around 6:40 a.m. Tuesday, police responded to an attempted robbery report at Johnny Joe's, 401 S. Hwy 377.
The clerk reported that a white male, around 6-feet tall with a neck tattoo, wearing a black sweatshirt/hoodie, black hat and sunglasses, handed her a note demanding money. No weapon was shown.
The suspect left the store when a customer arrived, without taking anything. He fled on foot towards Cook Street and was believed to have left in a waiting vehicle at that location.
Anyone with information about the crime should contact the Argyle Police Department at 940-464-7254 or Denton County Crime Stoppers at 1-800-388-TIPS.