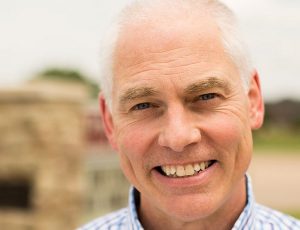 by Daniel Humbert, Senior Pastor at Trietsch Memorial UMC, Flower Mound
Even though it was 20 years ago, I remember it like yesterday. The details are vivid and bright. It was a day unlike any other. That day not only taught me what true joy could be; it set the standard for my understanding of joy.
In 1996, Kay and I had recently relocated and were serving a new church, a new community and living in a new home. We got the call at 2 a.m. "It's time! Come now!" We drove to San Antonio in less than three hours! Needless to say, we were excited and in a hurry.
We arrived exhausted and elated. We rushed to greet our family and discover our destiny. It would be the day we'd awaited. Nothing could've prepared us for the range of emotions we'd encounter. Our lives would be forever changed! On this day, we'd be given the most precious gift of all—life; a life that was not our own, and yet a life forever entrusted to us.
Our son. Our first-born child. He was given to us by another mother who wanted us to parent her child. She would entrust to us the child she carried and loved in her body.
Melissa was gracious enough to allow us the blessing of being present while she delivered her first-born child. It was impossible to describe the gratitude and joy we felt. We were to be given a life that we could not have created or gained by any other act than of pure love and genuine trust. Melissa was our angel and she was bringing us good news of great joy. This baby would offer us hope for a future. And pure grace made it possible.
The time came for her to give birth. It was a miraculous event—life, creation! I'd never witnessed anything like it. To witness the miracle of life come into being was pure joy! A blessing that could never have been imagined was suddenly bestowed. A saving grace had become real for our lives. A son had been born. A child offered. Joy!
And characteristic of God's amazing grace, an unwed, pregnant teenaged girl made it possible for us. JOY indescribable! JOY unimaginable! JOY as pure a gift from God.
Every year, as we celebrate the birth of our Savior, I cannot help but be reminded of how tangible and real is the joy which God bestows. Joy comes every year and it's in the form of a little baby boy born to an unwed teenage girl who unselfishly offers him as a gift to the world. Not because she had to, but because she wanted to. Mary's gift is our gift. God's desire for the creation is poured out in love. That is JOY!
I pray you too can discover God's joy this season through the birth of Christ. It really is transforming and life-giving; like nothing else the world has to offer.
The Pastor's Place features columns written by a different area church leader each month.Call 940-728-8284 for more information.