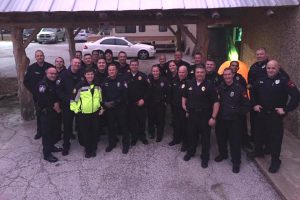 For the second year, Journey to Dream, a Lewisville-based non-profit dedicated to serving homeless youth in Denton County, hosted its annual Shop with Cops program.
Officers from the Lewisville, Flower Mound, and The Colony police departments on Friday shopped with 30 teens from the Lewisville ISD at Target in Lewisville. Target donated $150 to each of the teens.
The teens rode with officers from The Shepard's House in Lewisville to Target, cheered on by lights and sirens.
Once there, festive officers in holiday gear assisted the teens to shop for their immediate family or themselves with donations provided by Target, New Star Drilling Company in Lewisville and Lamb of God church in Flower Mound. After shopping, the teens were served dinner and wrapped their gifts.
"This event was such a great opportunity for our local law enforcement to break down barriers and foster relationships with our local youth," said Michelle Deaver, Journey to Dream Board Member and a volunteer organizer of the event. "This is a special way to start your holiday season."
This year's event was held in conjunction with Journey to Dream's "Dream Express," a holiday event for local teens and their families experiencing homelessness.
The night was also made possible by volunteers from Journey to Dream, Target, Lamb of God Church, Lewisville ISD and the Flower Mound Rotary.