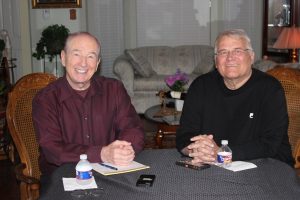 Among the many wonderful endeavors performed by caring people who give their time and effort to help the less fortunate, those who do so to assist children with special needs is somewhere near the top of the list. Former LISD Board President Fred Placke is one of those caring people.
For 37 years Mr. Placke has been devoted to New Horizons, a 501c3 organization that provides counseling and specialized treatment to children and families throughout Texas. New Horizons was founded in 1971 by Del Barnett as a residential treatment center for emotionally disturbed boys on 150 acres in Goldthwaite, TX. A number of boys from a treatment center near Austin were taken on a camping trip on the land that is presently "The Ranch" in Goldthwaite. They were so successful in the more open, individualistic environment that a decision was made to build a permanent residence.
Originally known as Camp Pecan Bayou, the name was changed to New Horizons in 1974 as the result of a group effort by the boys to decide on a name which better expressed the purpose and was easier to spell! The first girl was admitted to the program in 1978. New Horizons Philosophy and Mission is based upon healthy and safe relationships. Those relationships must be built in order to help children develop success and pride in themselves, high self esteem and to enjoy life as a child. In the accompanying video, Fred Placke talks about the many ways in which children with special needs have benefitted from the New Horizons model.
The staff helps children explore the abandonment, neglect, abuse, trauma and/or issues behind the behavior that brought them into care. This allows them to find ways to deal with those issues so that their behavior does not disrupt or destroy their lives. Using relationship as a basis for treatment has proven to be very successful with helping children overcome their trauma. The focus each day is based on what's best for the child.
The Ranch has an accredited charter school, a horse barn and riding arena, a swimming pool, playgrounds, campus lakes, football and baseball fields, a tennis court, an indoor gym, three homes, and a chapel/family center. In addition, it employs a 24-hour integrated treatment team approach that combines therapy and services carefully designed to meet the individual resident's treatment needs. Treatment is directed by a professional team consisting of a psychiatrist, a psychologist, licensed clinical therapists, social workers, state accredited special education teachers, and trained direct care staff who employ a social model utilizing group interaction to teach accountability; social skills; and ownership of one's behavior, emotions, and life choices.
New Horizons is licensed by the Texas Department of Family and Protective Services, and is a member of the Texas Alliance for Child and Family Services. The organization's mission statement holds that "children are our future, and therefore our first priority … that children deserve nurturing relationships free from chaos, abuse and neglect. Our aim is to surround children with the most dynamic, involved, committed, caring, and quality adults who provide the arena of relationships as an avenue for change. Our staff is provided with the tools, experiences, and expectations to profoundly and deeply affect the lives of children they are around." For more info: www.newhorizonsinc.com.
Bob Weir is a former NYPD officer, long-time Flower Mound resident and former local newspaper editor.