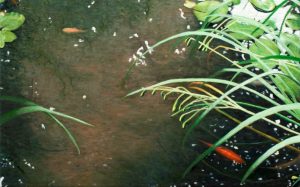 The members of the Cross Timbers Artists' Guild will open their studios to the public this weekend, November 12 & 13, for their 15th annual Artists Open Studio Tour.
An Opening Reception will take place Friday evening, November 11, at Premier Gallery, 1681 Justin Rd #200, Flower Mound.
In 2001, six visual artists who live and work in neighborhoods in Flower Mound, Highland Village, Double Oak, Copper Canyon, Argyle, Bartonville and Lewisville joined together to create the Cross Timbers Artists Studio Tour.
This year, 26 artists will open their studios to display their art, their work spaces, and provide demonstrations.  The purpose of the Tour, which is held the second weekend in November each year, is to give the public an opportunity to explore the artistic process first hand, showcase the variety of fine art available in the local area, and create a sense of community among area artists.  There are a number of new artists on the tour this year, along with two former members of the Guild who have rejoined the tour.
Valerie Corwin, a representational portrait and landscape painter works in oils and pastels, often combining the two mediums utilizing a mixed media approach in her work.  Valerie's work is based on direct observation, augmented with many photographs of her subjects.  Her artistic emphasis is then based upon composition and the careful placement of color.  Valerie, a Fine Arts graduate of the University of Houston, has won numerous awards and her work appears in both public and private collections in the United States and Canada.
Daren Fagan is a Highland Village-based artist who specializes in industrial fixed and kinetic sculptures.  His work is a balance of masculine forms with delicate and often whimsical accents.  Daren incorporates various forms of recycled steel, automotive and motorcycle components, and found objects in his work.  With no formal education in the Arts, Daren has evolved his style through experience and learning through creating.
After several years' absence, painter Kathleen House and wood carver Doug Oliver are returning to the Tour. After graduating from Kansas State with a degree in Art Education, Kathleen was a stay at home mom for several years.  She jumped back into the art world as a substitute teacher in Hurst and she claims that opened up her "art brain."  So, she went back to school and earned her Masters' in Art from Texas Woman's at the age of 40.  She and her adult daughter operated art schools in multiple locations for 12 years, but she eventually sold the business to spend more time with family and to remodel her barn studio in Double Oak.  Her new series entitled "Letting Go" captures her granddaughters' challenges and life adventures, and well as her challenge to embrace the future and being able to let go.
Doug Oliver is the owner of a graphic design firm that specializes in cartography and illustrations utilizing his degree in geology.  He became interested in art after developing an intense interest in nature, ornament and architecture.  Doug works predominately in sculpture in the mediums of wood and clay.  He was fortunate to study under Bavarian master wood and stone sculptor Ludwig Kieinger for over 10 years.  Doug credits Ludwig for sparking his love of sculpting and European art.  He says "exploring art in different mediums is a task that never gets old and is always a challenge."
The studios of all 26 artists will be open from 10 a.m. to 5 p.m. on Saturday, November 12 and from noon to 5 p.m. on Sunday, November 13.  The opening reception will be at Premier Gallery, 1681 Justin Rd., FM 407, Friday evening, November 11, starting at 7 p.m.  For more information please see the map with artist information in this issue and visit www.crosstimbersarts.com.