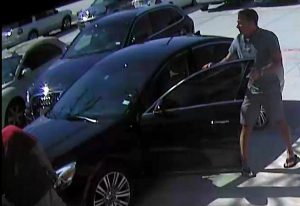 The Flower Mound Police Department is asking for the public's assistance to identify a suspect in a felony failure to stop and render aid case.
Surveillance video from Gloria's Latin Cuisine on Justin Road on October 15 during the lunch rush just before 1 p.m. shows what appears to be a white male, about 6-foot tall, driving a newer model black Kia Optima or Cadenza pull into a parking space. The driver then jumps the curb and accelerates, slamming into a park bench where two women are sitting. Both women sustained injuries and were treated at the hospital, but have since been released.
The suspect initially got out of the vehicle and seemed as if he was going stay at the scene, but as soon as he was left alone, he left the scene without providing assistance or leaving his information as required by law.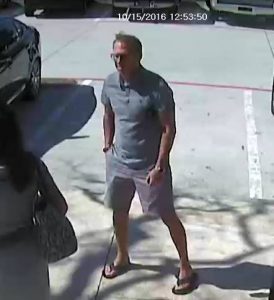 It's unknown if the suspect accelerated on purpose, had a medical condition or was under the influence of drugs or alcohol.
"It could have been intentional or accidental but we need to talk to this person," said Flower Mound Police Captain Wess Griffin.
The suspect's Kia should have light damage to the front bumper which may be concentrated on the driver's side where the majority of the impact occurred. The vehicle had no front license plate at the time of the offense.
The suspect was described as being a white male, approximately 6-foot tall, 50 years of age, wearing a gray polo shirt and gray or brown cargo shorts with flip-flop style sandals.
Anyone having information regarding the identity of the suspect is encouraged to call Detective Devin York at 972.874.6507, or the non-emergency phone line at 972.539.0525, which is answered 24 hours a day.  Callers can also call the Crime Tip Line at 972.874.3307 to leave an anonymous message.