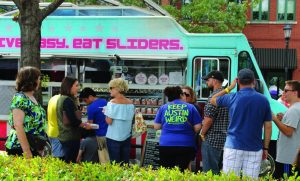 The 2nd Annual FloMo Food Truck Fest delivered what it promised—fun, food and appreciation for those who serve us.
Held Sunday from 11 a.m. to 6 p.m. at Parker Square, the fun was abundant and varied. Excited adults, children, and animals turned out in droves to support the fest designed to raise benefit The Jordan Elizabeth Harris Foundation.
The good food included offering from more than 20 food trucks and attendees were willing to stand in long lines for their favs; the grapevine said that seafood devotees waited an hour for a chance to choose from the menu of Cousins Maine Lobster. Pie, ice cream, brats, deli sandwiches, pizza, sliders, barbecue and street tacos, among others—all satisfied the palates of Flower Mounders and those flocking from surrounding towns.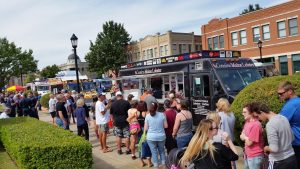 Fun was had by just being there, through visits to the 50+ vendors who presented a multitude of products for purchase and by listening to the rock and roll music of The Stoneleighs, a Rolling Stones tribute band, Van Gogh's Ear and Charles Spradling Classic Rock.
Children ages 10 and under received special attention in the free Kids' Zone where they could attain balloons twisted into fun shapes by balloon artists, zip along Bounce n' More's two-lane zip line, have their faces painted, conquer a giant obstacle course, rush down a vertical slide and enjoy a Playwell's LEGO area or a toddler funhouse.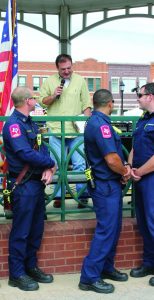 Mayor Tom Hayden was on hand to decree Oct. 9, 2016, as Flower Mound First Responders Day and a hearty round of applause was raised from the audience for first responders and the Citizen Volunteers for all they do to help the residents of Flower Mound. Boy Scout Troop #265 led the ceremony recognizing the dedication of these first responders.
Presented by Congregation Kol Ami, the FloMo Food Truck Fest was organized by tri-chairs Laurie Appelbaum, Gabrielle Giddan, and Caren Bornstein. The overwhelming response to last year's event prompted organizers to change the venue from the temple grounds to Parker Square.
Sponsors include Parker Square, Pioneer Realty, Albertsons-Tom Thumb, Earthwise Pet Supply, and Big Frog. The Jordan Elizabeth Harris Foundation, Core Physical Medicine, Re/Max DFW Associates Flower Mound, DKH Academy, Newman & Taub Vision Center, Dido's Urban Grill, Kuzmich Law Firm, Next Step Recruiting, MD Neurology, Stepping Stones Pediatric and Adolescent Medicine, and Grace Community Assembly of God also helped sponsor the event.