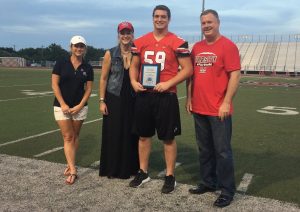 A.J. Wozniak recently received a very special distinction when he was named one of Dave Campbell's Texas Football Unsung Hero recipients.
The Marcus senior offensive lineman was one of five football players in the state to receive the honor, and Marcus coach Gerry Stanford said it was really a no-brainer.
"A.J. is a great kid," Stanford said. "He's a great leader, and he truly embodies everything this football program and our community is all about."
Wozniak, 17, was honored at a community pep rally leading up to Marcus' Homecoming game on Sept. 23 against L.D. Bell, a game the Marauders won 45-28.
Wozniak received a plaque and a $500 scholarship to be used at the college of his choosing from the Texas Farm Bureau Insurance.
"To me, being selected as an unsung hero is a huge honor," Wozniak said. "It has made a lot of the hard work and dedication that I have put in to developing good character traits and becoming a better leader finally come to fruition."
According to a news release, "whether it's leading his vacation bible school for the past three years, being a student leader and ambassador for his discipleship group or doing missionary work in Germany, A.J. works just as hard in these endeavors as he does when blocking and tackling. His active participation in the LaDainian Tomlinson Leadership Academy has carried over to him becoming a true team leader for the Marauders."
Wozniak said that it is important for him to give of himself and set a good example for other people.
"In my faith-based lifestyle, I am always trying to do things the right way and for others so that they may succeed as well," Wozniak said. "I really take this into account when I get into situations that challenge my morals, and I've learned over time that it's more about serving then it is about yourself."