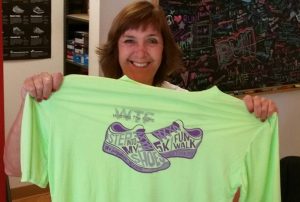 In an effort to educate and create awareness surrounding the stigma and judgement associated with drug addiction, Flower Mound-based WTF (Winning The Fight) is holding a 5K Run/1 Mile Fun Run/Walk to encourage others to get past the stereotypes and embrace the idea that addiction, while not curable, is treatable.
Kathy O'Keefe, Executive Director of WTF, in partnership with the LISD CHOICES Program are teaming up with local business sponsors at Forestwood Middle School, 2810 Morriss Road in Flower Mound on Saturday, October 8, at 8 a.m. Register for the event here. 
In addition, LISD will be sponsoring a shoe drive at the event. Participants are encouraged to bring a pair of gently used shoes as a donation to Christian Community Action. 
Registration through October 7th is $35 for adults, $15 for teachers, students, military, and first responder personnel. Onsite registration will also be available with a $5 increase to the above prices.
"Unless and until we find effective ways to educate the community about the prevalence and devastation of the disease of addiction, we will continue to have those who will pass judgement on others in the throes of use, and those working on their recovery as well," said Kim Muench, WTF Director of Public Relations.
"Our goal is to create awareness, through a fun, family-based event which promotes physical and mental well-being."
WTF – Winning The Fight! is a non-profit organization that provides drug education, resources, and support to families dealing with addiction.