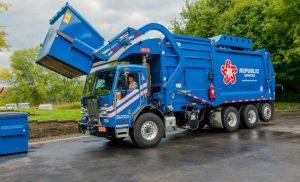 They're coming for your cans, Flower Mound.
The Town of Flower Mound will switch trash and recycling service providers October 1 from Waste Management (WM) to Republic Services.
Starting late this week, Republic will provide residents with 96-gallon blue trash carts and green recycling carts. Republic and WM will work together to provide residents with the new Republic carts and remove the WM carts.
Residents do not need to do anything out of the ordinary, but continue to place their carts at the curb by 7 a.m. on their collection day.
There will be a rate increase from $9.47 to $12.74, which includes the following services:
• Bulk/brush limits increased from 2- to 4-cubic-yards
• Residents are allowed one free visit per month to the Camelot landfill with proof of residency for up to 10 cubic yards of household waste
• Senior citizen discount has increased from $1 to $1.50 per month
Residents will also continue to have unlimited access to a household hazardous waste pick-up program, with collection directly from their home.
For the majority of residents, collection days will remain the same. However, to improve route efficiency, a small number of homes will change collections days and the affected residents will be notified via mail and a door hanger.
Republic has pledged to donate $5,000 annually to the Keep Flower Mound Beautiful organization as part of their agreement with the town.
The move from Waste Management to Republic is the second such switch this year by a local municipality. Lantana officials made the change in February.
For more information, visit www.flower-mound.com/trash2016 or call the Town's Customer Relations staff at 972.539.SERV (7378).