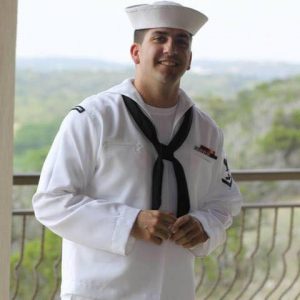 The community is invited to come together to welcome home and thank Petty Officer 2nd Class Johnny Parenteau for his 8 years of service in the United States Navy.
During his service on the USS Theodore Roosevelt and USS Abraham Lincoln, Parenteau spent time in Bahrain, Singapore, Dubai and other locations around the world. His duties included aviation ordnance and he is exiting the Navy as an E5 2nd Class Petty Officer.
Parenteau has followed in the footsteps of his dad, John, who is a Navy veteran. His mom, KC, is so excited along with the entire family to have her son coming home.
Parenteau's sister, Double Oak resident Katie Saldivar and her family are putting together a surprise "Welcome Home Celebration" on Saturday, August 6, and want the community to join in.
Here are the details:
1:15 p.m. – Park at Clayton Downing Middle School and gather at Double Oak Town Hall and pavilion. Come dressed in your patriotic gear and bring flags, balloons, posters, etc.
1:30 p.m. – Johnny will arrive with family, thinking he's just checking out the area.
1:30 p.m. – 2 p.m. – Welcome Home Celebration
For questions or to send well wishes and thanks for Johnny and his service, please send to Katie at:
[email protected]