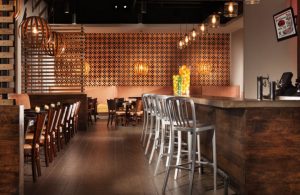 Realty Capital Management, LLC, master developer of Lakeside DFW, announced Wednesday the addition of Mio Nonno Trattoria and Mena's Tex-Mex Cantina to The Shops at Lakeside located at FM 2499 and Lakeside Parkway in Flower Mound.
"We are enthused to introduce two impressively authentic restaurants into this community," said Jimmy Archie, developer of Lakeside DFW. "Mio Nonno Trattoria and Mena's Tex-Mex Cantina will contribute to Lakeside's growing popularity as a destination for shopping, entertainment and a first-class dining experience."
Currently located in Allen, this will be Mio Nonno Trattoria's second location in Dallas/Fort Worth, while Mena's Tex-Mex Cantina will be opening their third restaurant in the Metroplex.
Mio Nonno is anticipated to open in November and Mena's will open in January 2017.
In addition to these two new tenants, The Shops at Lakeside will welcome Fairway Mortgage, an independent mortgage corporation and Victory Sports Rehab, a sports medicine and chiropractic clinic, in late 2016.
Mio Nonno Trattoria
Chef Ati Mala and longtime friend Noti Krasniqi bring Central and Southern Italian fare, as well as their signature Wood-Fired Pizzas to Lakeside DFW. Their healthful and authentic menu covers a wide variety of Italian cuisine; from their traditional pasta dishes to "Old World style cured meats," accompanied with the freshest vegetables available.
Mio Nonno Trattoria's impression makes the customer feel as if they are in Italy, with their "Old World" rustic look and cozy atmosphere. The focal point for the interior of the restaurant is the Wood Fired Pizza Oven, preserving the family oriented feel that fulfills everyone's appetite and experience. Mio Nonno is thrilled to become a part of the Lakeside community and welcomes all into their new home.
Mena's Tex-Mex Cantina
Whether it's lunch or dinner, Mena's has a variety of traditional Tex-Mex dishes to satisfy everyone's cravings. The enchiladas, tacos and fajitas highlight the diverse menu and their margaritas add to an unforgettable meal. Their dedicated service and attention to detail has helped them become a town favorite in Richardson and Carrollton.
The restaurant features a full bar, cozy booths and an array of tables to fit any size family or group. It is their goal of making sure that all ages are able to enjoy the delicious Tex-Mex cuisine in a comfortable and inviting environment. Mena's will be a destination for the entire Lakeside community.