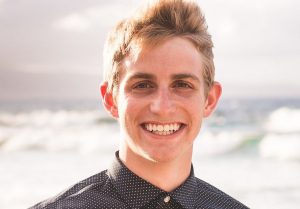 Aaron Southerland is the epitome of the term scholar athlete, but academics and sports are not the most important part of his life.
"My greatest passion is seeing the gospel of Jesus change people, and letting that permeate every part of their lives," Southerland said. "That's what all of my activities revolve around."
The Coram Deo alum was a captain of the boy's soccer team, where he was a first-team all-district selection. He was also a house chaplain, overseeing a devotional time and prayer during house meetings, along with other religious duties.
"My future aspiration would be to be a teaching pastor," Southerland said. "I'm not sure where or how, but that is my goal."
Southerland has already started preparing himself for a life of ministry.
"I was in multiple theology electives at Coram Deo," Southerland said. "On Friday's we do electives and Monday-Thursday are the core classes. On Friday, I took four theology classes and Ancient Greek was one of them. I took that class because you get to read the New Testament in its original language."
But the recent Coram Deo graduate also has an artistic side. And, apparently, has quite the flair for the dramatic.
"I've also been doing theater for four years," he said.
Southerland competed in a one-act play for Coram Deo in TAPPS, in which he helped his ensemble to two consecutive district championships and earned several awards and selections to all-star casts.
The Flower Mound teen said that what he has enjoyed the most about being so involved at his school is to watch the growth of underclassmen at the academy.
"I guess the main thing is to see younger students develop as people and leaders," Southerland said. "And I have particularly seen that in soccer and drama. I've seen the guys who would start out in one position and, as they were coached and trained, they became stronger leaders who could better contribute to the team. That has been the best part for me."
Southerland, who finished high school with a 4.0 grade point average, is headed to Multnomah University, a small bible college in Portland, Ore., in the fall.
Southerland's Favorites
Favorite Subject: Theology
Person who most inspires me: Mr. Jon Jordan
Favorite Food: Parfait
Favorite TV Show: Psych
Favorite Movie: The Secret Life of Walter Mitty
Book Currently Reading: Desiring God
Favorite Musical Group or Performer: United Pursuit
Favorite Athlete: Michael Jordan
Favorite Sports Team: Dallas Cowboys