Barker Named New Head Volleyball Coach at MHS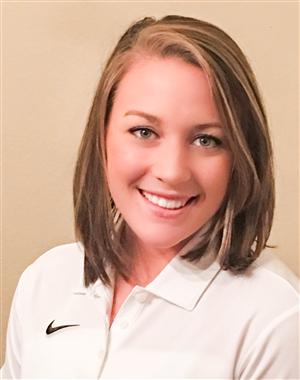 The
Marcus High School
 (MHS) volleyball team will have a new leader when it hits the court in August. Danielle Barker has been tapped to serve as the head volleyball coach at the school. Barker is currently the varsity assistant coach at
Flower Mound High School
 (FMHS).
Marcus Principal Gary Shafferman believes Barker possesses all the qualities necessary to guide the squad to success.
"Danielle is a natural leader who knows what it takes to be successful on and off the court. I am confident she will build the type of program the Marcus community expects from our school – a team filled with committed, hard-working student athletes who represent MHS with pride. We are excited to welcome Coach Barker to the Marauder Family," Shafferman said.
Barker started her coaching career at FMHS in 2014, after a successful stint as an all-conference volleyball player at Tarleton State University (TSU). She earned a bachelor's degree at TSU and was a fixture on the Commissioner's Honor Roll for her academic achievements.
"I am excited and honored for the opportunity to join the Marcus High School staff and lead the terrific group of young women in the volleyball program," Barker said. "Lewisville ISD is known as an outstanding district that has high expectations for its student athletes. Our district is home to the defending 6-A volleyball champions, and I want Marcus to be in the conversation when people talk about great volleyball programs in North Texas and across our whole state."
Marcus kicks off the 2016-17 volleyball season on August 9 against Arlington High.
Acosta Named New Timber Creek Elementary Principal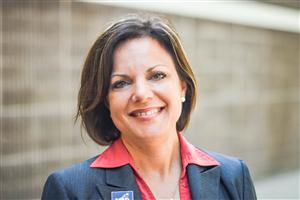 Lewisville ISD (LISD) announced July 6 the appointment of Amy Acosta as the new principal at Timber Creek Elementary, effective July 25.
"I am very honored and truly blessed," Acosta said. "I look forward to continuing our journey of excellence together as a campus and community. We share a common passion and purpose – to make a difference in the lives we touch as public educators."
Acosta has been in LISD for 12 years, most recently serving as Assistant Principal at Timber Creek. She is committed to excellence and focused on designing successful standards-based learning experiences for students everyday. She has assisted with the implementation of coaching circles within LISD, collaborating with the district's Professional Learning Department to provide opportunities for administrators to grow as leaders.
Acosta began her career in education in 1994 as a bilingual teacher in Houston, Texas before moving to South America in 1999 to teach English Language Arts and Social Studies. She joined LISD in 2004 as a Spanish teacher at Bridlewood Elementary and then moved to Peters Colony Elementary in 2010 where she was Assistant Principal. She served as Summer School Principal in 2015 and 2016 at both Independence Elementary and Timber Creek Elementary, respectively.
Acosta has been a part of several LISD committees, including the Teacher Evaluation Committee since 2014, the Discipline Matrix Committee in 2014 and the Student Handbook Committee in 2014. She is part of the Texas Elementary Principals and Supervisors Association (TEPSA) and was recently inducted into Delta Kappa Gamma (DKG), an organization that promotes personal and professional growth in women educators.
Acosta was selected as Teacher of the Year in 2005 at Bridlewood Elementary. She received the Lewisville Education Foundation (LEF) Changing Children's Lives Award in 2015 and was a finalist for Elementary Assistant Principal of the Year in 2016.
"I have personally worked with Mrs. Acosta for many years and am so proud to continue to work with her as the new leader at Timber Creek," LISD West Zone Leader Rhonda Godbey said. "Mrs. Acosta will continue the initiatives already started at Timber Creek and I know she will bring in many new ideas as well. She is a true servant leader. I look forward to more great things with her at the helm."
Acosta graduated Cum Laude with a Bachelor of Arts degree in Spanish from Texas A&M University and earned her Masters of Education degree from Concordia University.
Acosta is married to Lakeland Elementary Assistant Principal Luis Acosta. They have two children together: daughter, Nicole (15) and son, Nelson (11), both attend schools in the district.
LISD Westside Aquatic Center Offers Olympic-Sized Experience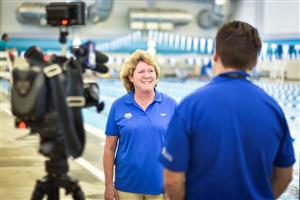 With the Rio de Janeiro 2016, XXXI Olympic Games set for Aug. 5, it's only fitting local news networks like NBC5 head to Lewisville ISD (LISD) to check out the district's
Westside Aquatic Center
— the only Myrtha pool in North Texas.
Myrtha Pools, an Italian based pool company, has designed and installed pools intended for training, competition and post-race recovery for the Rio 2016 Games.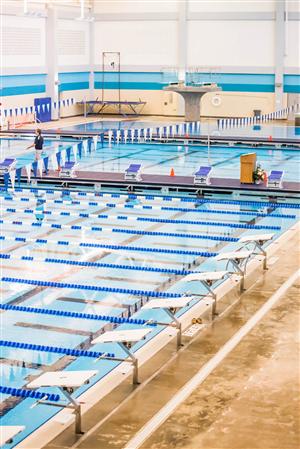 "This unique pool provides something for everyone," LISD Westside Aquatic Center Director Shannon Gillespy said. "From high school and club activities to full community and surrounding area use, the LISD Westside Aquatic Center provides limitless opportunities."
In February, the Westside Aquatic Center hosted the FINA Women's Intercontinental Water Polo Tournament — an event which Team USA, Australia, Brazil, Canada, China and Japan competed for a spot in the 2016 FINA World League Super Final.
On Sept. 30, LISD officially opened the LISD Westside Aquatic Center with a ribbon cutting ceremony. The event featured performances from Flower Mound High School, Lewisville High School and Marcus High School athletes. Students also gave tours of the state-of-the-art facility. Among those in attendance were LISD Board of Trustees, LISD Leadership members, State Representative Ron Simmons, Lewisville/Flower Mound Chamber of Commerce presidents, principals, coaches, parents and media members. See photos from the event here.
From international competitions, lifeguard classes to birthday parties, the Westside Aquatic Center has something to offer for everyone all year round. More information about LISD's Westside Aquatic Center programs, events and hours of operation may be found here.
Football Season Tickets
LISD football season ticket packages for reserved and general admission are on sale through July 10th. Visit the
LISD Athletics website
for more details.