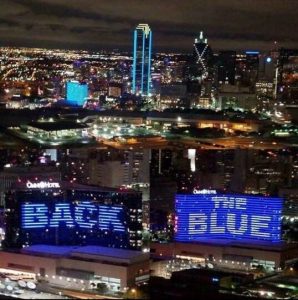 At least 11 police officers were shot and at least five were killed in an attack by two snipers in downtown Dallas at a protest on Thursday night. It was the worst attack on law enforcement since 9/11.
Flower Mound Mayor Tom Hayden posted the following statement on Facebook: "I have gotten numerous texts, emails, etc. from Flower Mound residents, asking "Mayor what can we do?" Start with this: Find a Flower Mound police officer and give them a pat on the back and thank them for what they do. Treat them with respect, and please, please pass this message onto our children. I've been asking myself, why would anybody choose this career? I can assure you it is not for the money. It use to be an honorable career … And we need to once again make it one by treating these men and women with honor. With videos, social media, etc. mistakes magnified while the thousands upon thousands of good things are missed and overlooked. Find a Flower Mound police officer and let them know we support them and stand behind them. Right now, many police officers must be feeling lonely and unappreciated. This is the time to reach out. The Us vs. Them mentality must go away. There is only an US.
Follow updates on this story here.