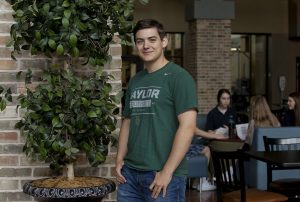 Politics is something that has interested Connor Price, 18, since a visit to Washington, D.C., in seventh grade. But, he didn't know that visit would lead him to Cleveland, Ohio five years later.
Price will be representing Texas Congressional District 26 as an alternate delegate to the Republican National Convention slated for July 18-27 in Cleveland. He's believed to be the youngest person from Denton County to receive such an honor.
"I don't see myself as a career politician," he said. "I see myself as someone who can go and actually help people. I'm not in it for the position and the title, but rather to go out and make peoples' voices heard."
His road to Cleveland began March 1, with his selection as a senate district delegate. Next, he was appointed as a state delegate, then, he was elected as one of three alternates by the congressional district caucus on May 14.
While at the district caucus, he learned how to make deals with people and discovered that most Denton Country voters favored Ted Cruz, while those from Tarrant County leaned toward Donald Trump.
Though his parents, Cara and Jeffrey, are Republicans, Price said he made the decision to support that party on his own.
"I was part of the Liberty debate team for three years," he said. "I studied philosophy and took congressional debate. After all the studies I've done, after everything I've looked at, after all the debating that's how I shaped my viewpoints to be a Republican.
"Believe it or not, my sophomore year, I leaned a little more liberal in the way I debated. From then on, I started going more to the right; based on becoming more educated on the system and how things worked nationwide."
The resident of Flower Mound's Tour 18 subdivision will attend Baylor University in the fall where he plans to study business finance. His sister, Catherine, just finished her freshman year at Liberty.
Since his first brush with politics, he's served as an intern for State Senator Jane Nelson, R-Flower Mound, the past three summers and spent one day during his junior year as a Senate page. He joined the Liberty Christian Young Republicans his junior year and served as president in 2015-16.
What veteran delegates told him to expect in Cleveland is that the infamous backroom deals are for real.
"I've been told to expect people come up to you and say 'hey, we'll pay for your college,' or 'hey, we'll buy you a car to sway your vote,'" said Price, who said he will honor his pledge to Cruz. "It's crazy as it sounds, I believe there will be people who will try 'to buy me out,' but it's not going to happen."
However, Price was emphatic when asked whether he would support Trump in the general election.
"As a voter, I feel like it is foolish for someone to say they will never vote for Trump because they are a "Cruz person" or whatever camp they fall under. The theme of the Republican State Convention was "Unite to Win" and I believe that the time has come for us to do that."