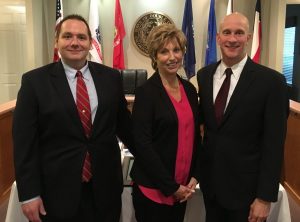 Council Members Sworn-In for Two-Year Term & Appointments

The Town of Double Oak congratulates Anita Nelson, Ted Gruenloh and Andrew Wills on their swearing-in as councilmembers. Their terms run from May 2016 to May 2018. The council has appointed Steve Durbin to serve as Mayor Pro Tem and Ted Gruenloh to serve as the Deputy Mayor Pro Tem. Thank you to the Double Oak Women's Club for providing refreshments for the reception.
Weather Events

Living in North Texas, we all know how quickly severe storms can come together so I strongly encourage you to invest in a weather radio and to sign up for Denton County CodeRED weather warnings. Simply go to www.dentoncounty.com and look for the CodeRED sign-up on the homepage. It's also a good idea to download a weather app to your smartphone that provides instant weather alerts when you are on the go. Stay informed when severe weather is approaching.
Double Oak Police Department – National Police Appreciation and Memorial Week

Chief Derrick Watson and his outstanding staff on the Double Oak Police Department sincerely thank the Double Oak Women's Club and the many residents who came by during National Police Week and left delicious treats, cards of appreciation, posters or just stopped by to say, "Thank you for your service". On behalf of the town, thank you and we appreciate everything the DOPD does for our community every day and all law enforcement agencies.
Update on future Town of Copper Canyon Town Center Development

I ask Double Oak residents to read "What's Happening in Copper Canyon" written by Mayor Sue Tejml as her column can best explain what their land owners, developers, Planning & Zoning and Town Council are discussing for the Copper Canyon jurisdiction land on the north and south side of FM 407 that adjoins Double Oak properties and actions taken. For questions, please contact the Town of Copper Canyon at 940-241-2677.
 Double Oak Retail Center on FM 407

The proposed 18,000-square-foot retail center on FM 407 near Chinn Chapel was recently approved by the town. Robert Suarez, the land owner and developer, lives in the area and plans to start construction in the near future. The current business park owners were supportive of the proposed center and believe the building style will be complimentary to their adjoining businesses.
Fiscal Year 2016-2017 budget planning and work begins soon
Budget discussions will begin in June to prepare for the next fiscal year which begins on October 1st. The current operating budget was balanced by bringing over some reserve funds from the balance sheet. Double Oak's ad valorem property tax rate is 0.23240 per $100, which is one of the overall lowest in Denton County. Part of the budget planning discussions will be developing the maintenance & operations (M&O) proposed budget and setting the appropriate tax rate. Our town did recently receive another clean and very good annual audit report. We have very little debt and do not have any finance bond indebtedness. Double Oak historically operates on the financial principle of pay as we go and maintains a sound financial reserve for emergencies, future town projects, operations of the town and unexpected town expenses that pop up. Council welcomes residents to attend our meetings and budget workshops as we proceed in preparing the next fiscal year budget.

Annual DOVFD July 4th Parade and Picnic

Chief Mike Ayers and members of the DOVFD are already making preparations for this fun annual event. They need volunteers to help set up and break down, people to help with food, drinks and games. Students in need of volunteer community service hours for school and other organizations find this is a perfect & easy way to pick up some of those required hours. Needed are items or services to auction off with all proceeds going to the fire department. You can find more information about the DOVFD and annual 4th of July parade and picnic @ www.dovfd.org. If you wish to volunteer, donate items for auction or be a sponsor, please contact the DOVFD Fire Station @ 972-539-7683 or Chief Ayers or Captain Kathy Heimerdinger. Remember to start getting those floats ready for the parade. Let's make this year's event one of the biggest and best ever. There will be lots of good food, drinks, music, fun for kids and adults, and, neighbors to visit with.
Double Oak Approves Local Sales Tax Election

Voters approved the ballot proposition which will go into effect on October 1st. The revenue will go to the general sales tax fund and will be used towards street paving and public safety (fire, EMS, police).
Walker Skelton – Eagle Scout Project: "Retiring Old Glory" US and Texas Flags
Double Oak resident, Walker Skelton, recently completed the construction of a really nice and respectful wood flag box that now provides a place for Double Oak residents and surrounding neighbors to leave their worn U.S. and Texas flags to be respectfully retired. "The American flag is the symbol of our freedom, national pride and history." The flag box is located in the town hall lobby. On behalf of the town, congratulations and thank you Walker Skelton and your family.

*The United States celebrates Flag Day on June 14th each year to honor the United States flag and to commemorate the flag's adoption (June,1777). On the same day, the United States Army celebrates its birthday (June,1775). "Many have given their life protecting our country and freedom. On National Flag Day, June 14, raise "Old Glory" and fly it proudly."
Frontier Communications Issues
If you are a Double Oak resident and have any unresolved issues with Frontier Communications, please contact town hall staff. The town, with the help of our State Senator Jane Nelson and State Representative Tan Parker, is doing what it can to assist our residents and others having issues.

Stay Informed on Town News by Signing Up with Charlotte Allen
Town Secretary Charlotte Allen sends out email blasts as needed to inform the community of important events and happenings. This information also gets posted on the town website. Please send your email information to [email protected] with your written request to be added to her list. The town greatly appreciates the HOA's, Candy Lamel and others who forward those out too many more contacts within the town.

End of School Year – Graduations, Summer Break & DOPD House Watch Program
The Town of Double Oak offers congratulations and best wishes to all Double Oak students. Your town is very proud of you and the hard work you have put into the school year! Drivers, please pay attention and obey the posted speed limit as you drive in Double Oak as our kids will be out of school enjoying summer break playing and riding bikes along our streets.
Because we have an outstanding Police Chief, Lieutenant and Officers, the Double Oak Police Department provides a House Watch Program when you are out of town traveling. Hundreds of residents use this service each year where you fill out a form and request close patrol. Operating our own 24/7 full-time police department, the town is pleased to provide this service to all Double Oak residents. Happy Father's Day and enjoy a safe summer!

DOWC Casino Night Successful
Submitted by Candy Lamel
Kathy Shake, Community Service Chairwoman of the Double Oak Women's Club, thanks all who made Casino Night fundraising event a great success!
Please support the generous donors listed below by thanking them and/or patronizing their businesses: AAA  Heating and Air Conditioning; AMF Bowling – Lewisville; Amy Rademaeker's Photographers; Boughton Outdoor; Diva Nails; Double Oak Concrete; Excite Gym & Cheer; The Flour Shop; Halff Engineering; Kwik Kar Lube & Auto Care of Lantana; Lisa's Flowers; Living Earth; Main Stream Boutique; Nothing Bundt Cakes; Passport Health; Piranha Killer Sushi; Pizza Hut – Lantana; RST Medical; Salerno's Restaurant; Savory Bistro; Second Home Furniture; Serious Results; The Table;  Verf's Grill & Tavern.