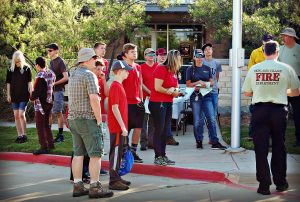 When the subject of wildfires comes up, places like California and Colorado immediately come to mind. Southern Denton County, located between and near Lake Lewisville and Grapevine Lake, would not even be on the radar.
But, as Highland Village Fire Chief John Glover has discovered, the opposite actually is true.
According to a 2001 Federal Register article he read around 2008, Highland Village and Flower Mound, two communities adjacent to U.S. Army Corps of Engineers property, are among 13,000 cities nationwide in danger of wildfires.
It's one reason why Denton County recently adopted its Community Wildfire Protection plan. It also prompted Glover to increase awareness in his own backyard by arranging a Wildfire Preparedness Day held May 7 at The Shops at Highland Village.
Co-funded by State Farm Insurance and sponsored by the International Association of Fire Chiefs, the day included groups cleaning up existing nature "fuels" lakeside at Pilot Knoll Park, mitigating "fuels" around the Brooks Court housing addition near Pilot Knoll, and handing out educational materials.
"It was very successful," Glover said. "We didn't know what to expect, but we had 82 volunteers, plus firefighters from Highland Village, Coppell, Lewisville, Flower Mound, Lake Cities and Double Oak. Also, there was the Texas A&M Forest Service and members of the Marcus High School Boy Scouts, Young Men's Service League and Air Force Junior ROTC."
While authorities in California and Colorado are better educated on handling wildfires, those in Texas are just learning, especially in urban areas.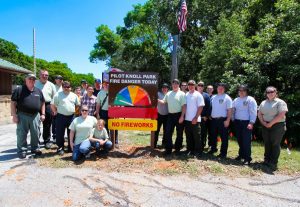 The 2011 fires in places like Possum Kingdom west of Fort Worth and even nearby in Grapevine really began alerting fire departments in Denton County of a potential imminent danger. Glover said this project may be the largest undertaking by fire departments since smoke detectors nearly four decades ago.
"This is not the sexiest of things in the world," he said. "There's no DNA to track down; no bad guys. It's just trees burning, but what we worry about is when it moves out of those trees that are adjacent to properties."
The danger comes from nature's fuels – thick, uncut native grasses– that actually can serve as accelerants to create potential fires. Leaves and small sticks dried by summer heat or winter cold also are dangerous, because they move fires quickly and intensely.
"We realized we have a lot of work to do to get the public notified of what a risk wildfire is to them," Glover said. "I recall fires in 2005, 2008, 2010 and 2011. While the fires weren't in this part of Denton County, they were in Sanger, they were in Pilot Point, and they were in The Colony. They just weren't right here, not in the urban centers at that time."
The Denton County Community Wildfire Protection Plan is a three-pronged approach to educating the general public. It first states that wildfires can happen here due to a combination of nature and the need for homeowners to be aware of the ways they can help on their own properties; including using the right construction materials and correct landscaping features that reduce the amount of natural fuels available to spark a fire.
"Though we're getting rain last year and this year, we're still where a drought situation can develop rapidly," Glover said. "The recovery is not there. We need years of rain. We're poised for it. Because we haven't had fires here, our fuel levels and the ground clutter [are high]."
If all those precautions still don't stop a fire from happening, the last point is to be prepared. It's part of the national "Ready, Set, Go!" evacuation program sponsored by the International Association of Fire Chiefs.
With the new awareness plan in place, Glover and his staff will take it to the public one area at a time. They also will work with neighboring departments on mitigation projects aimed at making sure southern Denton County is more proactive, rather than reactive, to the dangers of wildfires.