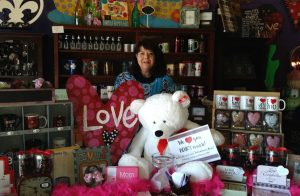 Now that the calendar has quickly turned to February, it's time to buy your sweetie something special for Valentine's Day.
While there's always the usual standbys of flowers, chocolates and mushy greeting cards, area merchants have some new ideas to consider in 2016. Here are just are few examples.
Extravaganza
 Since it caters more to women, owner Dana Bondar's store in the Highlands Ranch shopping center at 6100 Long Prairie Road, Suite 700, in Flower Mound has plenty of options for them to choose from.
The selections include everything from wine glasses to bracelets to boxed coffee cups. There's also a good selection of wall art and signs with inspirational and family messages plus frames to mount them.
Ladies can buy their guys items like boxed latte and "Trophy Husband" cups, pilsner and wine glasses, and bottle openers.
Cookbooks and salsa made by the Highland Village-based Morrison Brothers make great ideas for either gender.
 Tyler Candles and Tyler Laundry Scents remain big-selling items and will be bagged up for the big day when someone's name will be drawn to win a large teddy bear.
NASR Brothers Jewelry

Pandora's new Valentine's collection of affordable charms can be found at The Shops at Highland Village location at 1400 Shoal Creek #160.
There's also a good selection of never-before-seen pieces from the John Hardy, Andrea Candela, and Gabriel and Company lines.
Alex and Ani also is a popular brand of wire-style bracelet with special-meaning charms on them.
Of course, one can never go wrong with anything with diamonds such as pendants, earrings (especially diamond-studded), crosses, hearts always are great gifts. There's also plenty of loose diamonds.
"We actually have more things for men this year," said owner Eli Nasr. "We wanted to make the selection bigger since people are asking about it. We're very prepared with great inventory this year."
For the men there are Mont Blanc pens, cufflinks and watches plus the John Hardy luxury jewelry collection for men, Scott Kay men's jewelry and other upscale watch brands.
The Flour Shop Bakery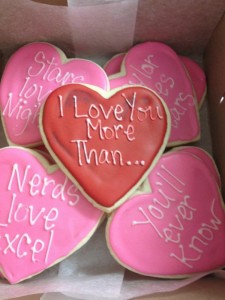 "If we can bake it we can make it," is Cara Vasquez's motto for her store at 1401 Shoal Creek, Suite 150, in The Shops at Highland Village. "We try to have a large variety to have something for everyone here. Everyone deserves something on Valentine's Day."
That includes traditional items like long stem chocolate covered strawberries, chocolate mousse cups, message cookies, conversation hearts, cake balls, cupcakes, and cheesecakes.
"We have quite a few more individual-style deserts this year," Vasquez added.
Among the choices are Pavlova (meringue shells with fresh berries and cream or mousse inside), strawberry shortcake, cream puffs, eclairs, French macaroons, and, of course, heart-shaped cookies and cakes.
Brightside Boutique and Merle Norman Cosmetics
From beautiful and fun Ivy Jane Clothing to Brighton Jewelry and Accessories, Fly London and UGG Shoes, as well as a full selection of Brighton Handbags, you are guaranteed to find the right gift for the young lady in your life at Brightside Boutique and Merle Norman Cosmetics in The Shops at Highland Village at 1400 Shoal Creek, #150.
Or, spend a little time to personalize your gift by selecting charms to build a charm story complete with charms for a friend, sister or special someone.  This is a great way to make those special people feel even more special.
Owner Ann Wolf said that they carry a full line of jewelry to dazzle someone with delight for Valentine's Day.  Did we mention handbags, clothing, shoes?
Either or all are sure to be a big hit, or just pop in and a get a gift card and let her be the one to choose.  If you want to look extra special Merle Norman in the same location can help you discover how beautiful you can be with skin care and a makeover.
Well trained Beauty Consultants are ready to help you for Valentine's.  A makeover is sure to make her feel very special. And don't forget– a gift card is also a great idea.
-Written by Mark Miller