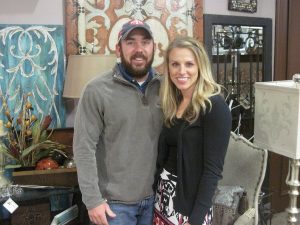 Paula Kratohvil, longtime Flower Mound resident and owner of Complete Interior Solutions (interior design and decor), recently retired and her son PJ, who owns Complete Exterior Solutions (patio, outdoor living and landscaping) has stepped in to merge the two businesses, offering "Complete Solutions."
Complete Solutions now offers both interior and exterior designers to help with everything from a new build, remodel, landscape plan or simple update both inside and out.
After 32 years owning and operating Compete Interior Solutions, Paula retired in December. Since then, she and previously-retired husband Steve bought a camper and have been traveling the country to visit friends and family.
PJ and his wife, Ashlee, who also live in Flower Mound, have taken over for Paula and remodeled the showroom located directly across from Texas Health Presbyterian Hospital Flower Mound.
"Being able to combine both teams really helps to streamline everything we do on both sides of the business, and we find most people really appreciate being able to work with one team/one vision that can truly offer everything versus multiple contractors and the obvious challenges that brings," said PJ, a Liberty Christian School graduate who started his business in 2005.
"As our patio and outdoor living business continues to grow, having in-house interior designers to be able to help soften up these exterior spaces, it really is making our customers feel as if it is just another room in the house and that has been amazing."
While PJ likes to get out into the field and supervise projects, he brought in Ashlee as office manager.
"She's the glue that holds it all together," he said.
The Marcus High School graduate left her job with Bank of America after her daughter was born to join her husband helping bond the two staffs.
"All employees stayed on board and are very excited about what the future holds," PJ said.
The updated showroom and friendly staff allows one-stop shopping for those who wish to build, remodel or update their home or business.
"Our experienced team can help with residential and commercial projects of any size, both inside and out," said PJ.
Complete Solutions is located at 4401 Long Prairie Road, Suite 400, in Flower Mound. Call 972-539-8258.
-Written by Mark Miller