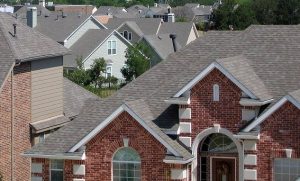 Lantana had 3,228 occupied homes as of Nov. 20 with an estimated population of 10,491. There were 161 new home sales recorded year-to-date as of Oct. 31, with the average new home selling for $424,108 or $132.68 per square foot.
Grading operations are underway for Barrington Addition, Phase A. The neighborhood will be located at the north end of Lantana Trail adjacent to the roundabout and will connect to Copper Canyon Rd. The first phase will consist of 119 lots and is scheduled to be completed in April. Highland Homes will be one of the homebuilders in Barrington. There will be a combination of 50-foot and 60-foot lots similar to the Bandera and Kendall subdivisions.
Construction is currently scheduled to be completed next May on the 90 lot Reata subdivision north of Tanner Parkway adjacent to golf hole 16. Highland Homes and Standard Pacific will be building in Reata.
Newport Homes is building in the final phase of Bellaire, a 32 lot subdivision that connects the Bellaire and Azalea additions
LionsGate Homes is the builder in the 52 lot Garner West subdivision adjacent to Fairlin.
Tokyo Samurai Restaurant, Marble Slab Creamery, Lantana Spa and Nails, Terry Donuts, SuperCuts, Nathan Romney DDS and The Tutoring Center are open for business and plans have been reviewed and approved for Lantana Eyecare and Hollywood Feed in the strip center next to Kroger at Lantana Town Center.
Two additional strip center buildings north of Kroger are under construction. One building consists of five lease spaces and is approximately 9,800 square-feet. Three lease spaces are designated as food establishments, which will be Dickey's BBQ, Dominos and Subway. Another tenant will be Oak Creek Family Dentist. A second adjacent building consists of two lease spaces and is approximately 4,200 square-feet. One of the spaces will be a Starbucks with a drive through.
Construction is nearing completion on a 10,474 square-foot, three tenant retail strip center at the northeast corner of Simmons and FM 407 adjacent to the dry cleaners. Plans have been submitted, reviewed and approved for Anytime Fitness a 6,100 square-foot fitness facility located at the south end of the building. The building will also have two additional lease spaces.
TxDOT has approved a stoplight at the intersection of Branch Crossing and FM 407. The signal is expected to be installed by March.