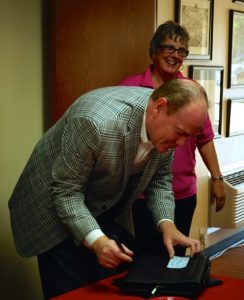 by Stacey Campbell
Hearts for Homes, a nonprofit Christian outreach through home rehabilitation affording low-income seniors a safe, comfortable and well-functioning home, was recently awarded $20,000 by the Denton County Housing Finance Corporation.
This grant, received this month, is specifically intended to support an effort to provide alternative housing solutions for senior homeowners whose homes are simply beyond repair.
"These funds could not have come at a better time. We have two senior homeowners whose homes are in an extreme level of disrepair and just not worth the money to try to fix up," said Susan Frank, founder and executive director of HFH. "That said, these seniors still deserve to live in a safe home so this special grant brings Hearts for Homes a step closer to the ability to offer these homeowners a housing solution that will offer them hope and dignity as they age."
Denton County Commissioner Andy Eads delivered the grant check late last week along with Paul Chandler, president of Meridian Bank and a DCHFC board member; and Charles Emery, a DCHFC board member, to Frank, along with several Hearts for Homes board members including Dr. Bettye Myers, Jerry Morgan and Michael Cline.
"I have been a strong supporter of Hearts for Homes since Susan Frank first started the organization," Eads said. "Passionate volunteers and visionary leadership have made Hearts for Homes successful as they work to improve the living condition of our most needy seniors. Denton County is proud of the work the group performs and congratulates you on this grant!"
For more information on Hearts for Homes and the many ways to support its important mission in the Denton County community, please visit www.heartsforhomes.org or call 940-891-0947. Hearts for Homes can also be found on Facebook at or Twitter at @HeartsForHomes. Hearts for Homes is one of many Denton area nonprofits participating in North Texas Giving Day on Sept. 17.
Stacey Campbell is media contact for Hearts for Homes.