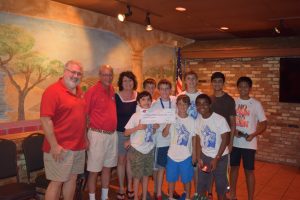 The Flower Mound Summit Club on Thursday evening awarded checks to groups and organizations that contribute to the community.
Christian Community Action (CCA) was awarded $3,200 for their continued work to help those in need.  Tom Cibula, development gift officer, accepted the contribution on behalf of CCA stating the proceeds would be used to support their food pantry.
CCA's food pantry supports 500 families each week. The Summit Club is proud to partner with and support CCA as they continue to offer services and resources to people in need.
The McKamy Middle School Robotics Club was on hand to provide a demonstration of their robotic skills. Last year, in their first year of competition, McKamy teams competed in regional, state, and national competitions. One of their teams, Trifecta, earned a third-place finish at the VEX National competition held in Iowa.
The Summit Club was honored to recognize the accomplishments of these middle school students by presenting Maureen Martin, president of the McKamy Robotics Booster Club, with a $500 check to help them as they prepare for the 2015-2016 competitions.
Kathy O'Keefe accepted a gift of $500 for her organization, WTF – Winning the Fight. WTF brings people and resources together to combat drug abuse and provide support for those in recovery.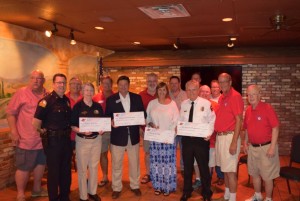 Kathy is a dedicated resident who knows firsthand the havoc, damage and grief that accompanies drug use. The Flower Mound Summit is proud to continue our support of Kathy and WTF as we work together towards the ultimate goal of "Winning the Fight."
In June the Summit Club was proud to host "Backing the Badge," an all-day event that brought the community together to say "thank you" and express appreciation to the employees of Flower Mound's police and fire departments.
The day's events included a 5k run hosted by Heritage Health Solutions, Elsey and Elsey Attorneys, and Texas Health Presbyterian Hospital.  The afternoon event, which was lead- sponsored by CornerStone Staffing, featured live entertainment, kid activities, sponsor booths and food trucks.
Thursday evening, $1,200 was given to the Flower Mound Professional Firefighters Association to help with their efforts to restore Engine 343, Flower Mound's first fire truck. Additionally, $1,201 was presented to the Flower Mound Citizen's Auxiliary Alumni Association to support various programs they maintain.
The extra dollar awarded to the FMCAAA is in recognition of the police department's victory in the "Backing the Badge" softball game.
Submitted by the Flower Mound Summit Club. For more information about the Summit Club, please visit www.SummitClub.org.