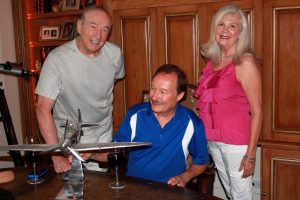 When you hear the term "appraisal" you generally think about the value of your home and other real estate property that has a price put on it by your county tax office. That price is measured by a formula which is used to calculate your payments. In turn, the value arrived at is used by your insurance company when you buy a policy covering your home.
However, there are many other types of appraisals that should be insured in order to protect the owner in case they are lost or stolen. These non-real estate appraisers have a keen eye for the quality and value of jewelry, oil paintings, sculptures, furniture, etc.
"Many people are unaware of the value they have in their possession," said Bartonville resident Richard Yerxa. "Some people have art objects or jewelry that may have been passed down from relatives, but have never been appraised," he added.
That's where he and his wife Jeanne come in. Acting mainly on referrals, the Yerxas are invited to homes all across North Texas to give clients appraisals on a multiplicity of valuables. They provide their clients with all the necessary receipts and documentation for the insurance companies that will be covering the items.
Jeanne Yerxa, his partner in their enterprise, handles the organizing, record-keeping and other commercial aspects. With computer skills and a business background, Ms. Yerxa is the perfect colleague, bringing to mind the term "power couple."
For many years, they owned jewelry stores in Dallas and a few other Texas cities. Richard earned a reputation for his keen ability to quickly spot a precious jewel or an imitation. He honed that talent to include some of the most diverse art objects. The Yerxas work as a team when they visit clients, with Richard often inspecting scores of items in the space of a few hours.
In addition, Richard and Jeanne are regular participants in community and political issues. Two years ago, he ran for a seat on the Bartonville Town Council. Although his candidacy did not prevail he has continued to stay involved in issues affecting the town. Please click on the accompanying video to learn more about this fascinating couple.