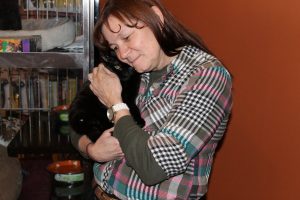 Deana Otis is committed to offering quality foods, supplies and services to pets of Flower Mound and surrounding area residents. As the owner of the new Earthwise Pet Supply at 2311 Cross Timbers Road several doors to the right of Sprouts in Flower Mound, Deana carefully selects the best quality of natural items.
A longtime employee with another pet supply company, Deana learned about the pet care industry firsthand. When deciding to open her first store, she made a list of the things she would do differently.
Earthwise Pet Supply, headquartered in Oregon, is a natural, holistic and green company – just the right fit for Diana when she and her husband, David, began looking for the type of pet store they wanted to open.
"We decided it would be a good fit," she said.
As the couple began looking for locations, they first considered areas near the recently opened Whole Foods Market, but with neighboring pet supply stores decided the location off Cross Timbers was a better fit.
Stepping into Earthwise Pet Supply, a visitor sees an assortment of items from grain-free and raw foods for animals to green products for pet bathing and care. The store offers everything from biodegradable doggie poop bags to healthy treats and chew toys. There are even doggie bones made of Yak's milk – a healthy option to some of the other well-known brands. In a refrigerator, Deana pulled out a frozen bottle of goat's milk – a healthy alternative for young abandoned kittens lacking the normal sustenance from their mother's milk.
Tucked in the back of Earthwise Pet Supply are two grooming stations available for either pet owners to use themselves to groom their own four-legged family member or use the services of a trained pet groomer. The self-wash stations cost $15 during the week or $10 on Tuesdays.
Deana also works with the Animal Rescue Foundation of Texas to showcase animals available for adoption. At a recent visit, two black kittens and an orange tabby were playing in a three-story showcase that allows them plenty of room to climb and be alone or hang out together.
"I've always loved animals," Deana says, adding she is known for bringing home animals. Among her menagerie are an Angora rabbit, a chinchilla, two bearded dragons and three big dogs.
Her interest in animals began at a young age. At 16, while driving along a road in Arizona, she accidentally hit an owl. Stopping, she immediately rescued it and took it home where she splinted its wing and taught it to hunt before releasing it back into the wild. She would see the owl occasionally but was particularly pleased when she spotted it with a mate and a young litter. She later worked with the life sciences museum while attending Brigham Young University.
She's also on the list to adopt a sloth, which she plans to house in a special humidity-controlled enclosure to be built within the store. The sloth will be Earthwise Pet Supply's mascot, she says, adding the sloth's name will be selected by customers in a special naming contest she'll launch upon the sloth's arrival – hopefully by the end of the year.
Earthwise Pet Supply provides nutritional training, allowing franchise owners to stay atop the latest information available for quality nutrition needs of pets.
"It's not your typical pet supply store," she adds, smiling while taking a minute to cuddle one of the kittens available for adoption.
Both Deanna and David Otis are excited about their venture, which opened at the end of September. And they look forward to opening more locations in the future, she said.
This story is an advertorial spotlight.