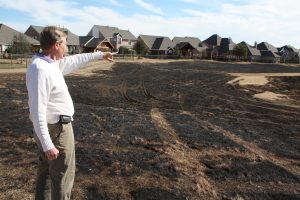 Argyle and Double Oak fire crews quickly contained a grass fire New Year's Eve started by fireworks that consumed 1.5 acres of the Lantana Golf Course.
The blaze started just after 9:00 p.m. on the south side of Bonham Parkway between Meadows Avenue and Mason Street.
Lantana resident Mike Lewis said he and his wife heard fireworks going off next to their home which abuts the golf course.
"We looked out the window and saw flames coming from the course." said Lewis.  "We and other neighbors ran out to help try to beat down the flames while others called 911.  The fire department was here in less than five minutes."
Lantana Golf Club's Regional Manager, Stephen Phillips, said the course suffered damage, but the full extent would be determined after daylight on Sunday morning.
A citation was issued to the individual who caused the fire and they will be held responsible for the damage, according to Argyle Fire Chief Mac Hoenberger.
Fireworks are allowed in Lantana but only on private property with permission from the landowner.
Strong winds behind a cold front and low humidity values kept fire crews busy Saturday night fighting numerous grass fires across Denton County, including a grass fire on The Flower Mound wildflower sanctuary at 2500 Flower Mound Rd.
Witnesses reported seeing several teenagers dressed in black running from The Mound as the fire was being reported.