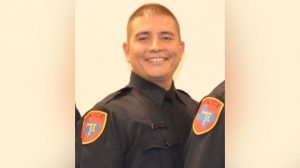 A fundraiser has been scheduled for Wednesday to benefit Denton Police Officer Urbano Rodriguez Jr. and his family as he continues to recover from being shot twice during a traffic stop last week.
Rodriguez was shot in the head and the femur while conducting a traffic stop early Tuesday morning. The suspects were eventually found and arrested. Rodriguez was hospitalized and has been showing signs of improvement after having multiple surgeries, according to the Denton Police Department.
The Hundred Club, DPD Citizens Police Academy Alumni, Denton Police Officers Association and Backing the Blue – Denton are hosting a fundraiser to support Rodriguez and his family. Bone Daddy's House of Smoke and BJ's Restaurant & Brewhouse, 3250 South I-35E, will donate 20% of sales between 11 a.m. and 11 p.m. Wednesday to the cause.
Also, the 100 Club of Denton is coordinating all donations for Officer Rodriguez and his family. Click here to donate.