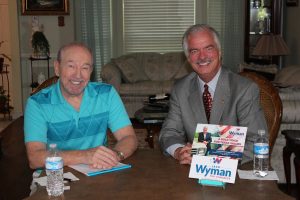 Some of the nicest people come into my home for interviews on a variety of subjects. It may be a local entrepreneur with a new business idea that would benefit members of the community; the president of a charitable group that wants to publicize an important event, or a candidate for public office who wants to let voters know why he/she is running. My wife Annette and I enjoy meeting people who are demonstrating their civic virtue by getting involved in the arena of ideas and endeavors. We're ever grateful to live in the greatest country in the world and just about the most splendid community in the Lone Star State. Were it not for the ambitious and courageous efforts of good citizens to serve in various capacities, the lifestyle we enjoy would not be nearly as fruitful.
Although I've met and interviewed Highland Village resident Jack Wyman before, it was another special pleasure to have him visit again as he announces his candidacy for Congress in the 26th District of Texas. Jack tells our viewers why he decided to run in the March 2020 primary for the Republican nomination for the seat currently held by Rep. Michael Burgess. Jack's biographical information is below and his campaign website is: www.jackwymanforcongress.com. His Facebook campaign site is: www.facebook.com/JackWymanforCongress/
"Jack Wyman has been involved in non-profit organizations, pastoral ministry and public service. As the leader of a statewide political action group in Maine for ten years, Wyman fought for pro-family and pro-life legislation, defended religious liberty and worked for better economic opportunities for Maine families. During this time, he established himself as a highly effective and respected state house lobbyist and public spokesman. For another decade, Wyman held various leadership positions in the world's largest prison ministry, Prison Fellowship, founded by Charles Colson. Wyman was a tireless advocate for criminal justice reform, including restitution and a second chance for ex-offenders and their families.
"As advancement director for Liberty Christian School in Argyle, Wyman helped to lead a capital campaign during a time of exciting growth. He is a champion of Christian education and school choice, including home-schooling. For more than five years, Wyman served as an advancement director for Haggai International (HI), a global ministry committed to identifying and equipping leaders in other nations as they help to improve the economic and social conditions of their own country. This included battling AIDS and sex trafficking, providing legal services for the poor, improved health care, advocating religious liberty and supporting changes in public policy. During this time, Wyman hosted numerous international leaders in Dallas, including business leaders and ambassadors. HI has trained 114,000 leaders from 187 nations.
"As a senior minister in four churches, Wyman has encouraged and helped families, served the community and helped to inspire personal, spiritual and moral improvement. In the wake of 9/11, Wyman brought comfort, clarity and encouragement to his congregation. His sermon following the attack on America was published in Preaching Magazine, along with sermons by Billy Graham and Max Lucado. An ordained Southern Baptist clergyman, Jack teaches an adult Bible study and has served on the finance committee of Northview Baptist Church in Lewisville. Wyman served on the local school board in Connecticut, where, as chairman of the newly created community relations committee, he led in bringing healing and unity to a deeply – divided town – and the selection of new educational leadership.
"At his oldest daughter's high school graduation, Wyman was invited to be the commencement speaker. He also served two terms in the state legislature of Maine, as a member of the Education Committee and House Chairman of the Labor committee. He was selected one of the three most effective freshman lawmakers his first year in office in a poll of veteran legislators and the press. In 1988, when no Republicans dared to run against future Majority Leader of the Senate George Mitchell, Wyman stepped forward to challenge him. While unsuccessful, he was widely credited for running a positive and thoughtful campaign of class and dignity. Even by his adversaries, Wyman was respected for having the courage to stand and fight for his beliefs against daunting odds in one of the most liberal states in the nation.
"During his years in Maine public life, Wyman earned a reputation as one of the state's most dynamic and eloquent public speakers. In 1994, Wyman was a candidate for governor of Maine, pulling to within a single point of runner-up in a field of eight candidates for the Republican nomination. In 2002, Wyman and his family moved to Highland Village to be near grandparents. Jack's mother-in-law is a native of Electra, Texas. His wife Elisabeth was born and raised in Bartlesville, Oklahoma. Jack's father-in-law is from Missouri. Wyman holds a BA degree in History and a Master's degree in Political Science. For eight years, he was a popular and respected instructor in American government and Texas politics at North Central Texas College in Corinth.
"When the former Doubletree Ranch in Highland Village was slated for the construction of high-rise apartments, Wyman joined with neighbors in successfully resisting the plan. The ranch has now been made into a beautiful family park. Jack Wyman is a patriot who believes deeply in American exceptionalism. His dad, as a 19 year-old Marine, witnessed the historic flag-raising on Iwo Jima. Jack's son-in-law Casey is also a Marine who has served in both Iraq and Afghanistan. For the past ten years, Wyman has written a weekly essay, A Word of Grace, in which he comments on a variety of topics, including history, theology, biography, politics and culture.
"Jack has also published a collection of his essays in a book entitled 'Everything Else: Stories of Life, Faith and Our World.' Jack and his wife Beth have been married 37 years. They have three grown daughters and five grandchildren. Jack Wyman believes that 'public office is preeminently a place of moral leadership. The people deserve more than a vote – they deserve a voice.' His life and career have been guided by his convictions, courage and compassion."