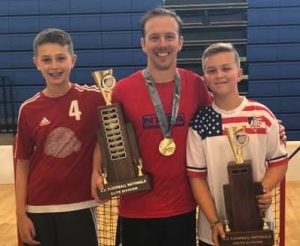 The North Texas Floorball Association (NTFA) took home two titles at the U.S. National Floorball Championships in August; winning both the Youth division, as well as the Elite division of the competition.
The NTFA youth team included Ethan and Landon VanPatten, Alex Radichel, and Kai Voutilainen from Flower Mound.
Ethan VanPatten was named Best Goalie of the Youth division, while Landon VanPatten scored the most points in the NTFA Youth division, and their father, Nick, said it was a joy to watch his sons perform so well.
"My wife and I were very proud of them," Nick VanPatten said. "I was fortunate enough to help coach their team and individual awards wasn't something we discussed or thought about during preparations. We focused on playing as a team, trying your hardest and having fun. Having the boys receive those awards was a pleasant surprise. It was great to see the smiles on their faces when they received them."
VanPatten, who also competed for NTFA in the Elite division, said sharing the experience with his sons in the national tournament was very special for him.
"It was awesome," VanPatten said. "They have been playing a couple of times a week for the last four years now and it's neat to see all the hard work pay off. There have been multiple times over the years that both of them thought about quitting and doing something else when times got hard. I'm very proud they have stuck with it and have worked through the tough times."
Floorball is a game similar to gym hockey, where athletes use sticks and a ball similar to a wiffle ball to try to score against an opposing team.
VanPatten said he has noticed a positive effect the sport has had on Ethan and Landon that extends far beyond the sport itself.
"Floorball has benefited my sons in so many ways," VanPatten said. "It's helped keep them fit, taught them teamwork, brought them new friends and helped them understand how to win and lose."
Brian Radichel, president of the NTFA, said the VanPattens could be potential future players on the U.S. National team.
"This family has been very active in Flower Mound and North Texas floorball," Radichel said.
Flower Mound placed a total of six players on the NTFA Elite and Youth teams.
The Elite team defeated Menlo Park by a score of 2-0 in the championship game, while the Youth team defeated the Orlando Vikings by a score of 7-3.
The NTFA is planning to host an introductory league for new players, which will be the Challenger Division.
Visit www.ntfa.us for more information on the North Texas Floorball Association.