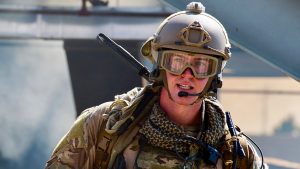 A Flag Site Memorial Dedication Ceremony will be held this month in Bartonville in honor of a fallen U.S. Air Force Captain who grew up in Bartonville.
The ceremony for Captain Mark Weber will be held on Wednesday, Sept. 18 at 7 p.m. at the Weber residence, 7951 Justin Road in Bartonville, across from the Lantana Trail stoplight. Due to limited parking, carpooling is encouraged.
Capt. Weber, 29, was one of seven U.S. Armed Forces members who were killed in March 2018 when a military helicopter crashed in western Iraq. He was commissioned as a 2nd Lieutenant in the United States Air Force in 2011 and served as a Combat Rescue Officer. Capt. Weber was assigned to the 38th Rescue Squadron, 23rd Wing, Moody AFB, Georgia, and was serving in Iraq in support of Operation Inherent Resolve.