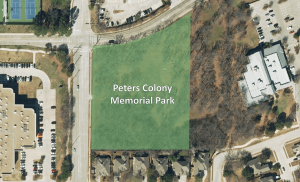 Preliminary design concepts for the future Peters Colony Memorial Park Master Plan will be presented at a Flower Mound town meeting this week.
Residents are invited to attend a Parks Board work session on Thursday at 6:30 p.m. at Flower Mound Town Hall, 2121 Cross Timbers Road, according to a news release from the town of Flower Mound. During the session, several design concepts will be presented for public feedback for the heavily treed 3.3-acre park, located on the corner of Old Settler's Road and Peters Colony. The parkland was acquired in January 2017 and is located next to Flower Mound's public library.
Staff will collect feedback from the Parks Board and the public at the meeting Thursday night. At a Parks Board meeting on Oct. 3, a public hearing is scheduled and the board will consider recommendation to the Town Council. At the Town Council meeting on Oct. 21, it is expected there will be another public hearing on the park's Conceptual Master Plan and Council will consider approval.
For more information, visit https://www.flower-mound.com/1791/Peters-Colony-Memorial-Park-Master-Plan, email the Park Development Manager at [email protected] or call 972-874-6278.