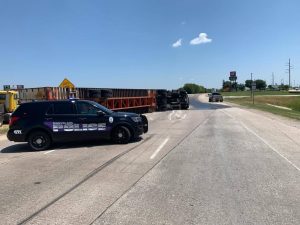 An overturned truck forced the closure of all eastbound lanes of Hwy 114 in Northlake throughout Monday afternoon.
The crash occurred just east of the I-35W interchange. The town of Northlake said on social media around 1:30 that the overturned truck would require a HAZMAT crew to help with the cleanup, which typically means the closure will last longer.
The road remained closed for several hours until close to 5 p.m., according to Northlake Police Chief Robert Crawford.