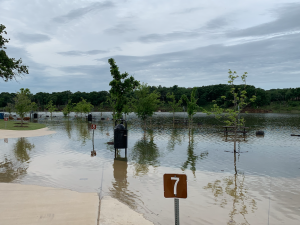 Twin Coves Park will close to the public at 5 p.m. Thursday until floodwaters recede from the roadway, according to the Flower Mound Parks and Recreation Department.
Staff will continue to monitor the situation and will provide updates, when available, about the status of the park, located on Grapevine Lake in far west Flower Mound, 5001 Wichita Trail.
The park will not be taking anymore cabin reservations this month, according to Flower Mound Parks and Rec. If you have a reservation later this month (and have not been contacted by staff), contact them at 972-874-6399 to discuss your options.