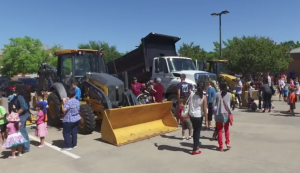 Bring the kiddos to get an up-close and personal look at some of the cool town vehicles and equipment next week at the annual Truck Rodeo event.
Kids will have the opportunity to climb inside Animal Control, Fire, Parks, Police and Public Works vehicles and equipment, according to the town of Flower Mound. Popcorn and lemonade will be served.
The event is scheduled for 3-4:30 p.m. on April 24 in the Flower Mound Public Library parking lot, 3030 Broadmoor Lane. In case of inclement weather, the event will be canceled.