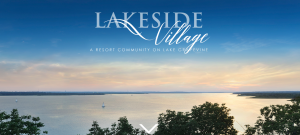 A website for Lakeside Village was recently launched to showcase plans for the 40-acre project on Lake Grapevine, according to officials with Realty Capital, the project's master developer. 
"The splash page highlights the property's views of Lake Grapevine, the walkability of the project, and the variety of uses," said Jimmy Archie, managing partner of Realty Capital. 
The Lakeside Village site is located immediately south of Lakeside DFW in southern Flower Mound, approximately 10 minutes north of DFW Airport, according to news release. Realty Capital Management was chosen to develop Lakeside Village by the landowners, the Peter P. Stewart family, as they were with Lakeside DFW.
The project will feature villa homes and mid-rise residences, lake-view restaurants, shopping, lake-view trails and parks, an amphitheatre and a hotel.   Plans offer many ways for the public to interact with the lake views from trails and vantage points, restaurants, a community green and at least one wedding venue. 
"We are continuing to work diligently on moving key elements of the project forward," Archie said. "We expect to make some important announcements in the next six to nine months."