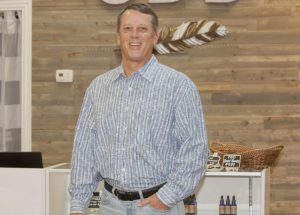 A husband and wife team is bringing a booming holistic medicine product to Flower Mound after they quickly became raving fans of the benefits of Cannabidiol, commonly known as CBD.
In June, Viviana Edwards of Carrollton learned of the potential medical benefits of CBD, a non-intoxicating marijuana and hemp extract that is used by a growing number of people as a natural remedy for common ailments.
Edwards, seeking relief from her gout symptoms, went to the CBD American Shaman store in Carrollton and tried the water-soluble CBD product.
"Within 15-minutes, she was feeling better," said her husband, Thomas Edwards. "Since then, she has not had any problems with her gout."
Thomas said Viviana continued to rave about how much better she was feeling, and he read that it could help with his mild case of bipolar disorder; so he tried it.
"It is helping tenfold," he said. "After talking to my psychiatrist, I am off all my meds.  I'm just taking CBD."
Viviana– who works at a Dallas law firm– and Thomas– who had retired– learned that CBD American Shaman was looking to expand. On Oct. 6, they opened a new CBD American Shaman on FM 1171 in Flower Mound.
Everything sold in the store has ultra-concentrated terpene-rich hemp oil derived from all natural, high quality industrial hemp, from water-soluble oils to chocolates and gummies. There's vape juice, ointments, lotions, lip balm and more. There are even products for pets, "that I can't keep on the shelf," Thomas said.
"It helps pets with different things like arthritis, separation anxiety, aggression and loud noises by calming them down," Thomas said.
He said many customers buy CBD products to relieve pain and tension. Some use it to help them focus and athletes are using it to recover.
CBD American Shaman of Flower Mound is located at 2001 Cross Timbers Road, Suite 103. It is open from 10 a.m. to 7 p.m. Mondays through Saturdays, and noon to 5 p.m. on Sundays. Call 214-876-2921.