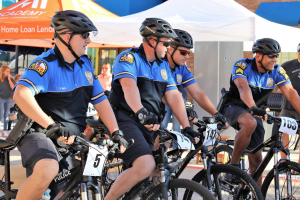 The Flower Mound Police Department bike team won the TXFallenPD Tribute Police Bike Race, hosted by the Highland Village Police Department, on Saturday.
Seven police bike teams, made up of 34 participants, competed in the annual Highland Village race, and the FMPD bike team finished first overall in team standings, 12 minutes ahead of second-place McKinney PD. Highland Village PD took third overall. Four Flower Mound officers finished in the Top 6, and all finished in the Top 15.
The Highland Village TXFallenPD Tribute Event began in 2008 as a police bike race honoring the lives of Texas officers killed in the line of duty. It has grown into a community fundraising event benefiting the Texas Police Chiefs Association Foundation which, through their Officer Death Benefit Fund, provides monetary assistance within 24 hours to the families of officers working in Texas who die in the line of duty. The event has raised over $160,000 in the last 10 years, according to the city.