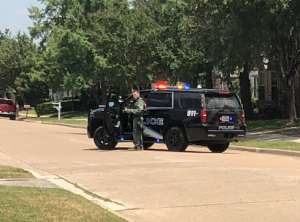 7:30 p.m. update: A suicidal subject came out on his own and surrendered peacefully to Flower Mound police officers after about a seven-hour standoff, according to Capt. Shane Jennings. The subject will be detained and provided medical attention. The roadways have been re-opened.
Original story: The Flower Mound Police Department has blocked off a couple residential roads as it attempts to negotiate with a suicidal person.
A family member of the subject called police just before noon to alert the authorities that the subject may cause self harm, said Capt. Shane Jennings. Police responded to the 800 block of Lake Bluff Drive, where the subject was inside a residence and was believed to be alone.
Police have blocked off Lake Bluff Drive and the nearby Stone Trail Drive from Silverthorn Lane and Regency Drive, and as of 2:20 p.m., are asking residents to avoid the area as they continue to try to bring the situation to a resolution, Jennings said. The area is located just north of FM 3040, about halfway between Morriss Road and South Garden Ridge Boulevard.