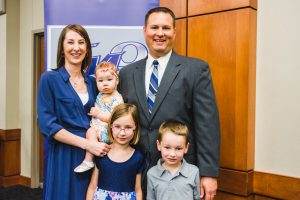 The Lewisville Independent School District announced Thursday that Jeffrey Brown has been appointed to be the new principal of Flower Mound 9th Grade Campus (FM9).
Brown has been an assistant principal at Flower Mound High School since 2012, according to a LISD news release, and his entire educational career has been with FMHS. He will take over duties from Will Skelton, who was recently named Marcus High School's new principal.
"Flower Mound 9th Grade Campus has an outstanding school culture with a tradition of excellence," Brown said. "I'm excited to have the opportunity to serve our students, staff and parents as principal."
Before becoming an assistant principal at FMHS, Brown served as the school's head athletic trainer for five years, according to the district. He also spent three years as an assistant athletic trainer for the school.
As an assistant principal for FMHS, Brown focused on enhancing student experience, according to LISD. He conceptualized and implemented 'Jag Time,' a weekly homeroom period where students develop relationships and engage in meaningful conversations with teachers and students. Brown was also instrumental in organizing student recognition programs like Jammin' Jags and Evening with the Stars. Beyond furthering the student experience, Brown directed FMHS' special education program, mentored colleagues, facilitated campus-level professional development and managed the campus' building schedule.
"Jeff Brown is a proven leader," Superintendent Dr. Kevin Rogers said. "His experience as an instructional leader and his long-term commitment to the community makes him an excellent fit for Flower Mound 9th Grade Campus."
Brown received a Bachelor of Science as well as a Master of Science from Texas A&M University–Commerce, according to the district. He also participated in the Region 11 Alliance for Educational Leadership Principal Preparation Program. Brown holds certifications in Principal (EC-12) and Secondary Health Education.