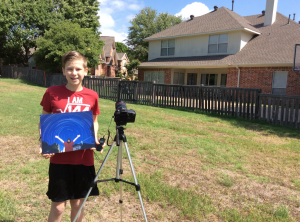 A local middle school student has received national recognition for his entry in a photography competition.
12-year-old Lucas Brasher, a sixth-grader at Briarhill Middle School in Highland Village, received the Award of Excellence for a photo he submitted in the National PTA Reflections program, according to the Lewisville ISD Council of PTAs. His photo was one of three nationwide to receive the Award of Excellence in the middle school photography category at the National PTA level, the highest designation with the exception of one Outstanding Interpretation per category across all age groups.
Entries were supposed to illustrate the theme "Within Reach," and Lucas' self-portrait image, titled "Stars Within Reach," uses a series of thirty-second photos stacked into a single image in Photoshop to simulate a three-hour exposure. The image captures the light trails of the stars surrounding the North Star over a four-hour period and also includes a picture Lucas took of himself using a remote timer.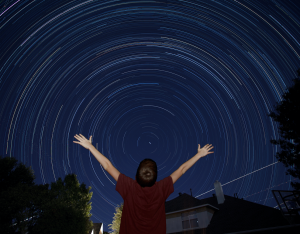 The son of Doug and Mackenzie Brasher of Highland Village, Lucas picked up his photography skills from his dad who enjoys photography as a hobby. Lucas initially took the photos for his entry out in the country but was unhappy with the airplane trails. He tried again in his backyard, with his house and basketball hoop included in the image, creating a more personal photo.
Lucas used a DSLR camera, tripod and intervalometer, taking 368 thirty-second photos with one-second intervals in between. He stacked the photos in Photoshop lighten mode.
"You can't look at the stars and see them like this," Lucas said, "but through photos you can. You have to take pictures to see them like this."
It's fitting that his winning photo would feature the sky and stars, as Lucas said he enjoys science and math and is interested in space.
"We don't know much about space," Lucas says. "That's what intrigues me. You could find something really cool."
Lucas will attend the Awards and Reflections Celebration at the National PTA Convention in New Orleans in June. He receives a $200 Young Artist scholarship, a silver medal and a Certificate of Excellence, and his work will be featured in the traveling exhibition.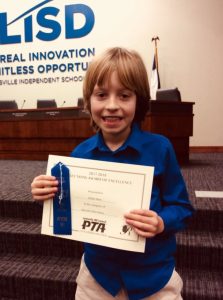 Lucas is one of two Lewisville ISD students who advanced to the National PTA level of competition after receiving the Overall Award of Excellence at Texas PTA in their respective categories. Dylan James Shaw, a fifth-grader at Heritage Elementary in Highland Village, advanced in the special artist music composition category with his composition titled "Uncle Boogie."
Lucas and Dylan each receive a crystal award from Texas PTA, gold colored medallion, and a letter and certificate signed by the Texas PTA president. They will be recognized at the Texas PTA Reflections Awards Ceremony in July.