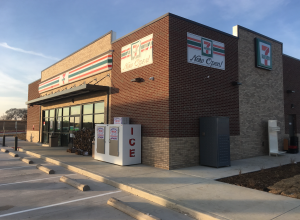 Bartonville's Town Council  members voted 4-0 on Tuesday to approve a proposed 7-Eleven gas station and convenience store.
It will be located on a 1.3-acre lot at I.T. Neely and FM 407 across I.T. Neely from Marty B's– in the Village Center zoning district– which permits convenience store with retail gasoline sales use.
Entry points will be from I.T. Neely and from FM 407. A right-turn deceleration lane on FM 407 will be completed in the near future, according to the town.
The project was found to be in conformance with all applicable town regulations. It was replatted, via a Minor Replat, in conformance with the Town's Subdivision Ordinance. The site plan submission and building elevations' design also conform with the town's Comprehensive Plan.
Earlier this month, the town's Planning & Zoning Commission voted unanimously to recommend approval of the proposed site plan, under the condition that the sign on the left southern elevation be removed to conform with the sign ordinance.
Vice Chair Commissioner Gloria McDonald requested a pitched-roof architectural feature be added; which is not required by the zoning ordinance. After consideration, the applicant ultimately decided not to make the change.
Currently, there is a 7-Eleven store in Bartonville Town Center just down the street from this future location, and it is expected to close when the new one opens.