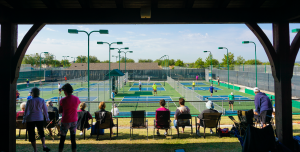 Robson Ranch will host the Quad States Senior Open Pickleball tournament next week.
The tournament will be held May 8-10 in conjunction with the USA Pickleball Association and is geared toward players 50+ in age, according to a news release. Warren Williamson, president of the Robson Ranch Denton Pickleball Club, said he expects players from more than 17 different states and had received more than 250 entries.
"We are excited to be hosting the Quad States Senior Open Tournament at Robson Ranch,"Williamson said. "Our pickleball courts are exceptional and our pickleball program is robust. We love having the opportunity to showcase our community."
Pickleball is a paddle sport similar to badminton and tennis. The RRDPC has 16 pickleball courts, more than 350 members and is the largest club at the 55+ active-adult resort community of Robson Ranch.
The tournament is free and open to the public at 9501 Ed Robson Blvd., Denton. Men's doubles and women's singles will be played May 8, mixed doubles on May 9 and men's singles and women's doubles on May 10. Matches will begin at 8 a.m. and will likely end late afternoon, weather permitting.