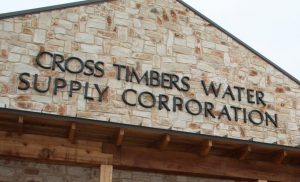 Cross Timbers Water Supply Corporation is completing tonight the voting for three open board member positions of their seven board positions.
Two incumbents are running: President Patrick McDonald, of Bartonville, has served on the board for 11 years; Secretary-Treasurer Robert Stegmaier, of Copper Canyon, has served on the Board for six years.
There are three new candidates: Karla Hohenberger of Copper Canyon; Andre Nicholas of Copper Canyon; and Sherry Price of Bartonville.  Board Members serve for 3 year terms and are not compensated in any way.  The Board meets once a month, usually on a Monday evening, at the CTWSC office on Hickory Hill Road.
The three towns and unincorporated areas – Bartonville, Copper Canyon, Double Oak, and Canyon Oaks residential subdivision – have no authority over the Water Supply Corporations's CCN territory.  Only the CTWSC's Board decides on water rates and where to make water system repairs and upgrades.
To be eligible to vote, you must be a "Member of Record" at the close of business on March 15, 2018; renters and lessees are not eligible to vote.  Only one vote is allowed per member, regardless of the number of water connections in his/her name.  In other words, only one vote per home or business.
The provided CTWSC mail-in ballots had to be received at PO Box 297, Argyle, TX 76226 by Thursday, April 19, 2018.  With 2,335 residential members at the end of 2017, the conveniently pre-stamped ballot envelopes cost the membership an estimated minimum of $1,167.
However, CTWSC Members, who haven't personally delivered or mailed in ballots, may still vote in person tonight at the Annual Meeting.  The Annual Meeting is held at the Water Corporation's office at 2032 Hickory Hill Road, Argyle, TX 76226 at 7:30 p.m.  (The office is just one block west of Harpool Middle School, on the south side of Hickory Hill Road.  For CTWSC Members from Canyon Oaks subdivision, Copper Canyon and Double Oak, go north on Copper Canyon Road and bend left or west onto Hickory Hill Road.  CTWSC office is on the left/south side of Hickory Hill Road, about a block west of the school.  For Bartonville residents, go north on FM 1830 and turn right/east onto Hickory Hill Road.  Go past the stop sign one block and the office is on the right/south side of Hickory Hill.)
Members will sign-in with the Credentials Committee, or with a representative of the Committee, as they enter the meeting.  The Committee will verify whether the Member has already submitted a ballot.
Ballots will be provided at the meeting to members who haven't already delivered or mailed ballots.  However, the ballots require your CTWSC Member Number, Name, and Address.  If you pay online, your Member Number is NOT provided on your receipt.  You may call the CTWSC office today (Monday) at 940-584-0780 for your Member Number, which is required to vote.
On February 19, 2018 the CTWSC Board appointed Chellie Eavenson, a CPA living in Lantana, to be the Independent Election Auditor for this CTWSC Board election.  She should have been the only person to have contact with the sealed mailed-in ballots to "CTWSC Election Auditor, PO Box 297, Argyle, TX 76226."  According to its 2017 Annual Audit, Cross Timbers Water Supply Corporation is a  501 (C) 12 non-profit organization and subject to the applicable Federal laws, including any for Board elections.
At the Annual Meeting tonight, there will be drawings for water/gallon credit to be applied to your water bill.   Four (4) drawings for a total of 50,000 gallons of water will be awarded to members submitting ballots by mail.  And four (4) drawings for a total of 50,000 gallons will be awarded to members present at the annual meeting tonight.