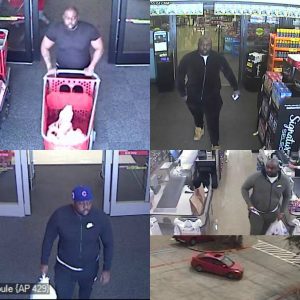 The Flower Mound Police Department is seeking the public's help identifying a man accused of credit card abuse.
The unknown suspect, pictured in surveillance images released by FMPD, has used cloned credit cards from Flower Mound residents to purchase gift cards at various grocery stores, according to FMPD Capt. Shane Jennings, a police spokesman.
The department is currently working on five cases involving the suspect between January and April. Other law enforcement agencies may be working cases involving this suspect as well, Jennings said.
If you can identify the suspect, call FMPD's non-emergency line at 972-539-0525 or the anonymous tip line at 972-874-3307.