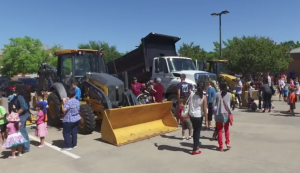 The Town of Flower Mound's Truck Rodeo is returning to the Flower Mound Library next week.
Children can check out lots of cool vehicles and equipment from various town departments, including Animal Control, Fire, Parks, Police, and Public Works in the Library parking lot, 3030 Broadmoor Lane, on April 25 from 3-4:30 p.m., according to a town news release.
Town employees will be stationed with each vehicle to answer questions. Popcorn and lemonade will also be served. All ages are welcome.
In case of inclement weather, the Truck Rodeo will be canceled, according to the town.